A Clean Water Shortage Can Affect the Lives of Individuals and the Vitality of Entire Communities
THERE IS A CLEAN WATER SHORTAGE in many parts of the world.
Resources abound on the internet offering worldwide and country-specific statistics concerning the impact of clean water scarcity, parasites in well water,effects of drinking contaminated water, and their impact on individuals and communities.
If you search the web yourself you can easily find more stats and numbers than you'll know what to do with.
Just searching through the data available from the United Nations alone yields tons of useful information.
For this reason, I won't go into all the numbers, just a few statistical items of interest to give you an overall "Big Picture".
---
It is well established that
* 1 in 8 people worldwide live with inadequate drinking water.
* In 2006, 1.1 billion people lacked safe water. The U.N reports that now the number is down to 884 million.
These numbers come from the World Health Organization and the United Nations data concerning the Millenium Development Goals.
---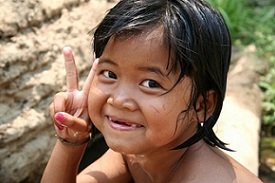 Statistics are abundant online and it is easy to find more of them at various websites. It is also easy to get overwhelmed by the size and scope of the problem.
Let not your heart be troubled!
THERE ARE ANSWERS! And, the purpose of this website is to present easy to understand information on water issues, water technology, and sustainable development. You will find links to many areas of interest in the menu on the left. In addition, each of those pages will contain links to more detailed information.
In the following links you will find further information on the issues and problems associated with the clean water shortage, such as water supply contamination, types of water contamination, waterborne diseases, and the effects of drinking water contamination. 

By following this link, you can also find videos pertaining to waterborne diseases that you will find educational and helpful in understanding issues in specific countries and the general prevention of waterborne diseases.
There is progress being made by large governmental organizations and by smaller non-governmental organizations(NGO's), and non-profit organizations, too, as well as by some for-profit corporations.
Take a look at this PDF document put out by the World Health Organization and UNICEF concerning progress made against the clean water shortage:

Access the UN/WHO Millenium Development Goals PDF 
Excellent information! And, obviously a lot of hard work went into this study.
But don't ever forget that the world needs YOU!
You have unique gifts, talents, and knowledge that the world cannot do without! There is only one unique YOU and only YOU can fulfill the specific purpose for which you were made.
Read on and find out what you can do and how you can do it!