Videos in This Library Depict WASH Activities Around the World
Videos will be added to this page for you to access.
These are You Tube and Vimeo videos depicting the things that people like you are doing around the world to change lives and improve water sanitation and hygiene.
They are intended to be instructional as well as inspirational.
Videos have been selected that depict real life applications, like construction techniques, and unique solutions that may help generate ideas and find the answers you are looking for. 

World Water Day 2012 U.N Promotional Video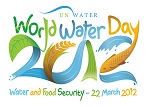 PATHOGENS AND DISEASE 
Waterborne Disease in Tanzania 
Waterborne Disease in Somali Refugee Camps 
Preventing Waterborne Disease 

BIOSAND FILTERS 
Biosand Filter Operation 
Biosand Filter Introduction 
Biosand Filter Construction 

SAWYER POINT ONE FILTERS 
Sawyer Filter Demo 
Sawyer Filter Construction 
Sawyer Filters in Kenya 

CLAY POT FILTERS 
Clay Pot Filter Construction: Laos 

AFRIDEV HAND PUMP VIDEOS 
Afridev Water Point Features 

INDIA MARK II HAND PUMP VIDEOS 
India Mark II Hand Pump Chain Disconnect 
India Mark II Tank Lift and Use of Pipe Vise Safety Clamp 

LATRINES AND SANITATION 
VIP Pit Latrines, Part 1 
VIP Pit Latrines, Part 2 
VIP Pit Latrines, Part 3 
Composting Latrines 
Hand Washing in Democratic Republic of Congo 
Sanitation as a Business 

RAINWATER HARVESTING 
Harvesting Rainwater 
Large Dams in Africa 

AFRICAN GROWTH AND DEVELOPMENT 
African Trade and Development 
African Infrastructure Development 
Increasing Trade Within Africa 

LIFEWATER INTERNATIONAL VIDEOS 
Lifewater Uganda Pump Repair 

MISCELLANEOUS VIDEOS 
Uncontacted Amazon Tribe Video
---