Clean Water News Highlights News and Experiences From the Field
"Notes from the Field" presents clean water news from experiences, photos, articles and observations of development workers and researchers in their travel and work throughout the world for the cause of clean water, adequate sanitation, and hygiene education.
Clean Water News will include much of our own work and training in these posts, as well as that of our friends and partners in Africa and Latin America.
---
Subscribe to the Clean Water Blog. Click on the links to the left, and stay up to date on the latest developments and clean water news at A Layman's Guide to Clean Water.
---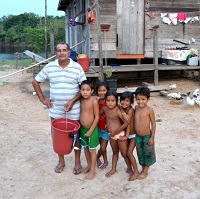 Clean Water News - September 2012 – Manaus, Amazonas, Brazil.
River International Brings Sawyer Water Filters to Families in Communities Along the Amazon River
It took us a few months to get this trip off the ground, but we finally made it! River International and four of us from California and Nevada took a boat from Manaus, upstream past Manacapuru, to the villages of Ena and Lua.
These are small communities made up of one and two room houses with eight to ten people living in each one. Their main source of water is captured rainwater which they supplement with water from the Amazon when they need to.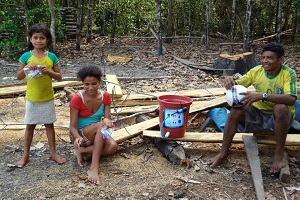 The river is a light brown to chocolate color, heavily sedimented, and with lots of organic material. There is no lack of water in this rainforest community, but there is great need of water treatment or filtration of some kind.
We brought forty Sawyer PointOne filters with us to distribute to the communities and we wanted to survey the area to see how they got their water, where they got it from, and what their sanitation strategies were.
Most houses had a simple pit latrine that was about two meters deep. The communities are uphill from the river, on high ground, beyond the reach of seasonal flooding. The latrines were decently spaced and located a safe distance from the houses and from the river.
Community members are very aware of the need for filtration and were very happy to get clean water news and a new filter that will last for years. We took time to explain to each of them how to take care of the filter and how to replace the bucket if they need to.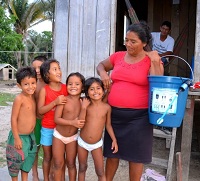 We gave filters to two schools which will supply clean water for around two hundred students. Primary age students were introduced to principles of water, sanitation and hygiene through use of the 4-F's poster. 

They were an awesome group; interested and attentive and willing to learn. I think I may tweak the 4 F's posters to make them more applicable to the Amazonian elementary student!
River International has connections in Manaus that make regular trips down the river. When they do, they will check on the filters to see how they are holding up and determine if there is anything that needs to be done to increase their effectiveness or lifetime.
---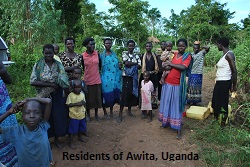 Clean Water News - November 2011 - Lifewater International Facilitates Advanced Shallow Well Drilling Training with Divine Waters Uganda
Lifewater International, worked with Divine Waters Uganda (http://divinewatersuganda.org)for two weeks facilitating advanced well drilling training for the Divine Waters staff.
Divine Waters has been successfully drilling shallow wells in northern Uganda for five years. This is good clean water news for Uganda! They were interested in refining their techniques and improving their skills and invited Lifewater for the purposes of further training.
One week was spent in the classsroom going over the fundamentals of mud rotary drilling and addressing specific issues on which Divine Waters staff felt they needed clarification or more advanced training.
The second week was spent in the field putting the newly learned material into practice. A shallow borehole well was drilled in the village of Awita, not far from Lira, Uganda.
The results were very positive. A productive and properly constructed well was drilled and the residents of Awita(more than 100 people)no longer have to get their water from a nearby polluted spring.
---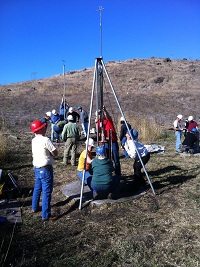 Clean Water News - October 2011 - Lifewater International Holds 5-day Hand Pump Repair Training
Lifewater International in San Luis Obispo, CA held a 5-day hands-on course in Hand Pump Repair.
Thirteen students and five instructors worked in public domain pumps such as the Afridev, India Mark II, Bush Pump and Tara Pump.
Students came from many different states, like Montana, Ohio, Illinois, California, and Arizona and were exposed to a variety of malfunctions which they had to troubleshoot and repair.
The real test comes when the skills they learn in this class are taken overseas to repair handpumps in real-life situations.
---
Clean Water News - September 2011 - 'Asia Water-for-Life Project'
Planet Water has partnered with J.P. Morgan and Sesame Workshop to deliver clean, safe water and provide education on water-health and hygiene to disadvantaged communities across the Asia-Pacific region entitled the 'Asia Water-for-Life Project'. The 'Asia Water-for-Life Project' aims to provide the daily drinking water needs of 100,000 people across six countries through the deployment of Planet Water AquaTowers.
Each AquaTower will be able to produce up to 10,000 liters of clean water per day and support the daily drinking water requirements of 1,000 people.
The project will focus on schools in rural villages with the installation of community-based water filtration systems, hand washing infrastructure, and an education program to teach children the life-saving aspects of water-health and hygiene.
Sesame Workshop, through its network of child-focused television programs across the region, will further support the educational component of the project through the development of content highlighting water-health and hygiene and water conservation.
This will include the production of multi-media materials, featuring the Sesame Street family of Muppets, for classroom use and content to be broadcast via television in local markets to support the goals of the Asia Water-for-Life Project.
The initial AquaTower deployments are taking place this week in the Pune District, State of Maharashtra, India where 10 schools and their surrounding communities will gain access to clean, safe water.
Project deployments will expand across six countries - India, Indonesia, Vietnam, Thailand, Malaysia (Sabah), and the Philippines - during the first year of the program.
---
Clean Water News - September 2011 - Severe Drought in Kenya and the Horn of Africa
Kenya is a drought prone country. Unlike most countries that sit on the equator, Kenya's climate is mostly arid and semi-arid. These dry areas comprise almost 80% of Kenya's land.
There are only a few places in Kenya that receive more than 2000mm of water a year.
Droughts in Kenya are coming more frequently and closer together, making it increasingly difficult for people and government to recover and be prepared for the next coming drought.
Kenya has suffered severe droughts in 1997, 2000, 2004, 2005, 2009, and now in 2011. The Kenyan government and the international community have always treated drought in Kenya the same way they treated the hurricane in Haiti and the tsunamis in Asia.
But, drought is not an event, it is a climatic process that has and will continue to repeat itself. Economic, agricultural, and infrastructure development is required rather than simply "relief".
Relief may "stop the bleeding" for the moment, but does not alter the state of preparedness for the next drought.
Some of the hardest hit by periodic drought are the small holder farmers and pastoralists who live and survive on some of the driest land in the country.
Read this report concerning viable approaches to increase the livelihood of these farmers in a drought stricken land.
---
Clean Water News - March 2011
Kitui,Kenya - Sawyer Filters provide clean water for medical dispensaries in Kenya's Kitui County.
While in Kitui, Kenya, on assignment with an organization called Citizen's Network for Foreign Affairs (CNFA) (www.cnfa.org), my colleague and I were presented with the opportunity to help provide clean water for medical clinics (called dispensaries) around Kitui County.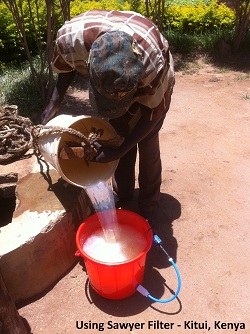 With the assistance of River International (www.riverintl.org),we brought with us to Kenya, ten Sawyer PointOne Filters.
These filters are very effective in removing harmful pathogens from water.
We demonstrated to folks at Kitui Development Center (KDC), our partners in Kitui, how to construct and set up a Sawyer PointOne filter.
They then went out to the various dispensaries to meet with the community and present them with the filters.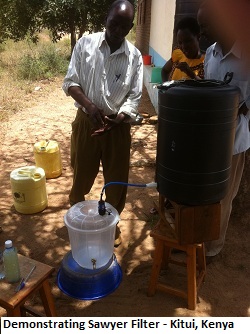 Drinking water around Kitui is often accessed from shallow hand-dug wells, and is quite contaminated.
Most people boil their drinking water or use a product called Water-Guard to settle out and disinfect water before drinking.
Some people say they don't like the way boiling changes the taste of water.
Sawyer Filters do not affect taste and people were amazed at the clarity and taste of the water they got from the Sawyer Filters.
Sawyer has a Business Plan that can be implemented through an NGO for the purposes of setting up a small business for someone in their operating area.
KDC hopes to set up such a business, providing Sawyer Filters for families in and around Kitui.
---
Clean Water News - March 2011
Kitui, Kenya – Sustainable water management for irrigation and domestic use – Sand Dams and Water Kiosks
I was given the opportunity to work in Kenya during March 2011. This opportunity came through an organization called Citizen's Network for Foreign Affairs (CNFA) (www.cnfa.org). 

CNFA's Farmer to Farmer program links agri-business and agricultural experts with local organizations in the host country in order to address specific issues affecting the livelihoods of individuals and the economy of the region.
I traveled with a colleague of mine who was investigating the mango supply chain in Kitui, Kenya and was working to help mango growers establish a more structured market and a processing facility for their produce.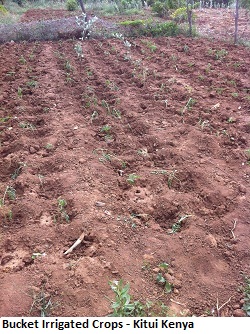 A development organization and CNFA's partner in Kitui was the Kitui Development Center (KDC).
They had identified an additional need among small-holder farmers.
Water is a scarce commodity during much of the year in Kitui.
Many farmers irrigate by simple bucket irrigation.
Some larger growers, however, utilize drip irrigation, conserving their water resources, increasing the area of irrigated crops, and increasing crop yields.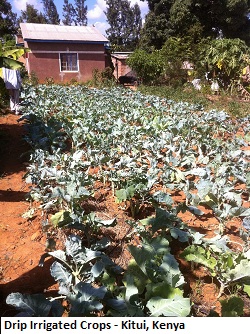 My assignment was to identify constraints to water conservation, recommend alternatives and ways for these small plot farmers to convert to drip irrigation. 


Click here to read the final trip report that I prepared for CNFA and KDC. 


---
Clean Water News - June 2009
Manaus, Brazil – Ceramic Filter Water Bottles for individuals and families living along the flooded Amazon River.
The Amazon River of South America is the second longest river in the world with an average discharge greater than the next six largest rivers combined. Tribal communities along this watercourse harvest the essentials of life from the river and from the rainforest that surround them.
Water exists in abundance, but clean water is scarce. Many people drink water directly from the river. Waterborne diseases are common. Children are often not given a name until they reach a certain age, since many infants do not survive.
In the summer of 2009, through an organization called River International (www.riverintl.org), we spent some time on the Amazon for the purpose of distributing water bottles containing a built in ceramic filter. We had originally intended to build biosand filters, but ran into a couple of problems.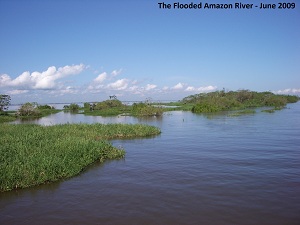 First of all, the river was abnormally high. Flooding that usually subsides in April was still occurring in June. Most of the communities we were to visit downstream from Manaus were deserted.
Some people had stayed behind and were living in their flooded houses. They had placed wooden planks over the water in the house and were literally walking and living just above the indoor water level.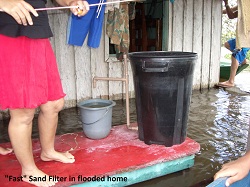 Secondly, flooding was so severe that there was really no dry land anywhere around these communities.
Biosand filters are not very effective when river sand is the only material available. They behave more like "fast" sand filters than "slow" sand filters; removing sediment, but ineffective at removing pathogens.
There were, however, some sand filters being used in some houses, constructed out of 55 gallon plastic barrels.
We went up the river with Chris Cope, International Field Director for SafeWater4Kids (www.safewater4kids.org) 

He was researching the effectiveness of the sand filters that families were using.
He was also investigating the feasibility of using ceramic pot filters, which seemed like better clean water news and a more effective way to filter water in that environment.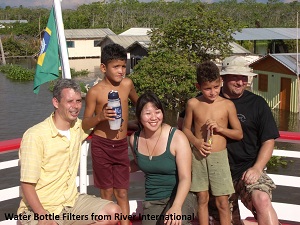 River International had brought along some water bottles that had ceramic filters built into them.
The bottles could be filled with water and the water would be filtered as it was drunk from the bottle.
Some families were hardy enough to live along the river during this season of extreme flooding.
The ceramic filter water bottles supplied them with a way to filter water from the only source available, the Amazon River.
---
---
Return "Home" from "Clean Water News"